Pele Remembered: Timothy Schum remembers the late, great Pele and his US years.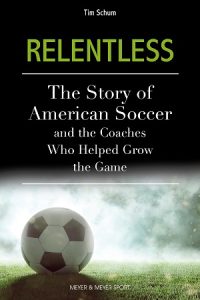 Timothy Schum is the author of 'Relentless: The Story of American Soccer and the Coaches Who Grew the Game' – available now
With the passing of Pele, stories emerged that sought to explain why late in his career the soccer immortal decided to ply his wares in the United States.
When finally free of Brazilian government restrictions (as a 'national treasure' he'd been unable to leave Brazil to play elsewhere), Pele could have chosen any number of countries where a fervent soccer culture existed.
So why the U.S. where sports fans didn't know if a soccer ball was stuffed or wound?
Perhaps a story that was circulated helps explain his decision. Pele, an avid fisherman, one day while on tour in New York City with his hometown Santos team, entered a sporting goods store and selected a new fishing rod. The salesclerk simply asked, "Sir, will that be cash or credit?" Prior to his later signing with the New York Cosmos, or in any soccer-mad country in the world, Pele would never have been able to make the transaction. But in metro New York at the time, he was still anonymous.
Money also played a role in his decision. Never as self admittedly clever with his money as he was at scoring goals (he scored 1,283 of them), Pele's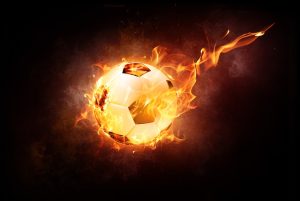 1975 three-year contract was for nearly $40 million (in today's dollars). For comparison, Willie Mays at the time was earning a yearly salary of $120,000). By 1977 the Cosmos were NASL champions and were attracting record crowds to the Meadowlands stadium.
And then there were the sponsorship deals, a lot of them with the likes of American Express and soccer supply companies like Puma, Umbro and Pony. And who could forget the Pepsi-sponsored instructional films in which Pele juggled a grapefruit?
Another reason for his relocation was that throughout his career he felt an obligation to share with the world the jogo bonito – the beautiful game.  For it had taken him from poverty to a worldwide popularity perhaps unmatched by any other athlete. And for him the U.S., was virgin territory to grow the game.
By 1984 Pele's goal was being achieved as Americans, newly awakened to soccer, turned out in record numbers to view Olympic soccer competition. With an established audience for the game, FIFA awarded the 1994 World Cup to the U.S. where, again, attendance records were set.  Soccer had arrived.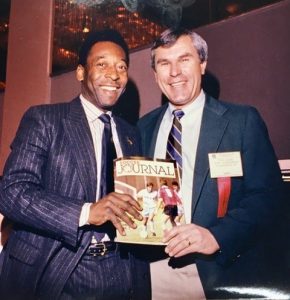 In 2015, Pele dined with a group of coaches and wives at the NSCAA Philadelphia Convention. I was there. As part of the affair there was a photo op. As we posed Pele held my wife Ann's hand. She still treasures the moment.
For it isn't often that one interrelates with a legend, particularly one who sparked a sports revolution.
Tim Schum is the author of "Relentless: The Story of American Soccer and the Coaches Who Grew the Game"-available now in the US – to purchase the book, click here.