Cardinal Publishers Group has several outstanding titles that help direct you in writing resumes and cover letters that would help you land the job you desire. In The Jobseekers Guide, 9th Edition, Kathryn Troutman offers a descriptive guide to applying for a federal job. In Modernize Your Resume, Wendy Enelow and Louise Kursmark demonstrate how to write resumes to get noticed.
As Cardinal Publishers Group celebrate women, let's dive in deeper and explore the contents that inspiring books written by women have to offer us.
The Jobseeker's Guide
The Jobseeker's Guide, 9th Edition by Kathryn Troutman is the ultimate step-by-step guide for applying for a federal job and writing a federal-style resume.
The Jobseeker's Guide is used at more than 150 military bases worldwide to teach Kathryn Troutman's highly acclaimed Ten Steps to a Federal Job® to military personnel and family members. This title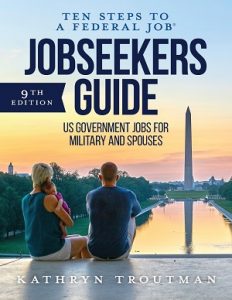 is recognized as the leading guide on the topic for 100,000 military spouses worldwide.
The Ten Steps to a Federal Job formula and the highly-successful Outline Format Federal Resume are designed to match the government job announcement qualifications.
The author's technique for identifying keywords, emphasizing the importance of accomplishments, and other strategies for the best federal resume that are critical to get Best Qualified and Referred to a Federal Hiring Manager. 
The book contains successful samples of federal-style resumes that are great for the federal human resources specialists to read and clearly see the job seeker qualifications. Information about Veterans Preference and Military Spouse Hiring programs are in the book to assist military and spouses with federal career search.
The Ten Steps to a Federal Job book and curriculum are taught at military base transition centers worldwide to give insight and expert instruction on federal job search for transitioning and retiring service members. 
Kathryn Troutman is the Founder and President of Resume Place, Inc., a Federal Career Consulting firm, Government Agency Contractor / Leadership Training, and Publisher located in Catonsville, MD. Her firm specializes in writing and designing professional federal resumes, as well as consulting, coaching and education on the federal hiring process. Ms. Troutman founded the Certified Federal Job Search Trainer program for military transition and employment specialists. This book is the primary text for this certification training. She is the author of many best-selling federal career books, including the Federal Resume Guidebook, 7th Ed.
Troutman is an enthusiastic and knowledgeable media guest, appearing on Beverly Jones's Jazzed about Work on NPR's WOUB, Carol Fishman Cohen's 3, 2, 1 iRelaunch (Relaunching Your Career), Mark Miller's Repurpose Your Career, and numerous times on Mike Causey's Your Turn show on Federal News Network. Her business, The Resume Place, had been featured in The Washington Post.
************
Modernize Your Resume
Based on today's real-world job search trends, Modernize Your Resume shows you how to craft a winning resume to meet the complexities of today's highly competitive and technologically driven employment market. The 2nd edition has been updated with new resume samples, new designs, and new ATS and e-resume guidelines, along with new chapters for jobseekers with special circumstances – career change, military transition, and return to work.
The entire job search process is evolving at a remarkably rapid pace, and your resume is at the foundation of it all. In this book, you'll learn to:
Write tight, lean, clean, and laser-focused content that allows you to tell your whole career story in half the words to keep your reader engaged.

Focus on information that is relevant to your target market and integrate keywords that are vital to being found online.

Present important information quickly in a resume format that prominently displays your skills, experience, education, and other credentials as they support your current career objectives.

Create a distinctive design to make your resume stand out and capture attention. Getting noticed is step #1, so make that happen and you're on your way.

Adopt a new mindset and deeper understanding of how to use today's modern resume for both person-to-person job search as well as electronic, digital, and mobile search technologies.
The 100+ resume samples demonstrate these strategies in action for real-life job seekers who've excelled in their search campaigns. The samples showcase the resume writing work of Enelow, Kursmark, and many of their colleagues who are also well respected for their expertise in resume strategy, writing, format, and design.
Clear guidelines and easy-to-follow examples give you practical know-how for building your own powerful resume that will serve all of your job search needs. You'll learn what works, why it works, and how you can make it work for you.
Authors and Master Resume Writers Wendy Enelow and Louise Kursmark have each spent more than 30 years writing resumes, training professional resume writers, speaking to job search audiences, and writing about evolving trends in job search. Follow the recommendations of Modernize Your Resume and you'll find yourself a more competent and competitive job seeker!
Both Wendy and Louise are Master Resume Writers, Certified Professional Resume Writers, Job and Career Transition Coaches, and Credentialed Career Masters.
A new edition of this famous book will be coming out in the Fall of 2022. Be on the look out for it.
Cardinal Publishers Group wants to encourage your reading enjoyment. To see more books distributed by Cardinal Publishers Group, browse our Bookshop. If you have any questions, you can contact us here or give us a call at 317-352-8200.
Happy Reading!