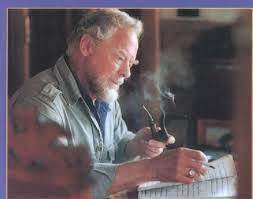 Indiana has lost one of their shining lights of letters. During his long and highly regarded career as a journalist and teacher, James Alexander Thom impacted many people. As an author, he impacted many more. It was perhaps through his prose that most people came to know him. But James was never one of those cloistered writers we often see in the movies. He had a love for getting out there and meeting his readers. So many of us were lucky to get to know James even if just a bit. "I never saw a writer more at home in a crowd as James," says his publisher of three books, Tom Doherty of Blue River Press.
James was just friendly that way. He was a man that was as comfortable extoling the virtues of chopping your own wood, as he was in the lecture hall speaking of journalism, literature, and history. James could speak on just about any topic and was always willing to listen as much as he spoke.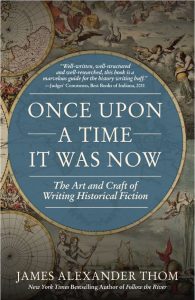 His mastery of the genre of historical fiction is renowned. Blue River Press published his tome on the subject in 2017, Once Upon a Time It Was Now: The Art & Craft of Writing Historical Fiction. That book has inspired thousands of writers and remains the preeminent book on the subject. But perhaps James' most enduring legacy will be his works of historical fiction.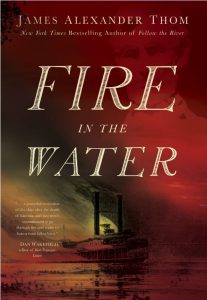 James burst on to the NYT bestsellers list with his novel Follow the River, published by Random House in 1981. It wasn't James' first novel, but it was the one that gained him a national audience eager for more. And there would be more historical novels that would follow, including his most recent paperback edition of Fire in the Water, published by Blue River Press in 2017.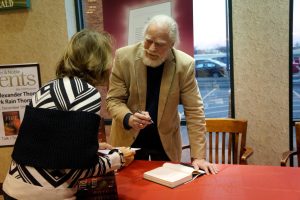 James' long-time collaborator Dark Rain also co-authored the popular Warrior Woman: The Exceptional Life Story of Nonhelema, Shawnee Indian Woman Chief, published by Ballantine Books, a Random House imprint, in 2003. Of which, Publishers Weekly wrote: "In this dense, moving fictional account of 12 critical years in Shawnee history, veteran historical novelist Thom (Sign-Talker, etc.) and his Shawnee wife tell the story of a remarkable woman who led her people's doomed resistance against her better judgment."
James and Dark Rain were more than a writing team, they were an inspiration to many who knew the value of sticking together through thick and thin. Longtime business associate and friend Adriane Doherty expressed that "no two people were a better expression of the adage that one plus one can add up to more than two."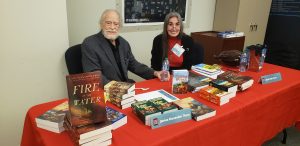 We at Blue River Press and Cardinal Publishers Group salute James Alexander Thom on a life well lived and a legacy that will earn him a spot in the pantheon of great Hoosier writers. He was a very lucky man who had an enviable career and an essence of peace always within himself and the family and friends that surrounded him.