FIFA World Cup 2022
Group B: One to Watch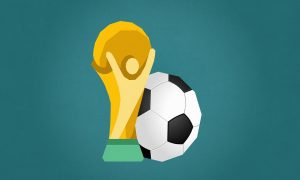 Shane Stay
FIFA World Cup 2022 Group B:
England
United States
Wales
Iran
From this group, the two most interesting teams in the whole tournament arguably are England and the United States.
England—a one-time World Cup champion from 1966, currently led by Kane and Sterling—is expected to win every time, yet falls short.
The USMNT—a program with plenty of Gold Cup titles, currently led by Pulisic—is not expected to win every time yet fans of the US—with the rich athletic tradition of America—want big results. Fans are forgiving yet impatience is rising; the men's World Cup represents America's last athletic frontier. What's more, the US is one of those promising teams—in league with Mexico, Japan, Australia, and a few others—that has potential to win the Cup, but things are currently "just out of reach"; with a little tinkering, the US is a major contender.  
Let's briefly look at Group B from the perspective of the United States. While some think the US will fall flat, there is an open window of opportunity to escape this group. In fact, this group is very much in play for the US.
Group B
 US vs. Iran
Iran is not a team expected to win this tournament. This is a comment that really needs not be written. Without question, this is true. However, it will not be an easy game as Iran is a team with passion and pride that will fight for every inch. It's quite possible, yet unlikely, that Iran could sneak into the Round of 16. However, you look at it, the US has its hands full; it should be intriguing. The outcome for this game? It will go either way. 
US vs. Wales
Wales is essentially the same quality as the US. Walking into the match, it's very balanced on both sides. Wales's injured Superstar, Gareth Bale, should provide a spark, with experience added to the mix. The outcome for this game? It's wide open, it could go either way. 
US vs. England
In a strange paradox, England is in the toughest position in the group. Why? Pretty simple: There are expectations for England to win the World Cup every year. The pressure is on. In each World Cup, England is overwhelmed with indescribable pressure that causes the players to tense up and play like robots. The other teams—US, Iran and Wales—have practically zero pressure by comparison and each side can play a more relaxed game. Therefore, as odd as it sounds, despite England being the favorite in this group, this might be a win for the US, considering the Three Lions will be overwhelmed with stress. The outcome for this game? England should control the tempo. Expect an interesting match, one that might surprise fans around the world. Will it be a repeat of World Cup 1950, a 1-0 underdog win from the US? It's possible. This will be the primetime game for this group.  
All in all, while fans around the world have low expectations for the US, it might just escape this group as a window of opportunity is very much open to do just that. Each game is within reach for the US. The team has a very solid attacking frontline, with options: Pulisic, Weah, Aaronson, Reyna, and more. The squad has a lot of punch and it might catch a few opponents off guard. As such, this group is one to watch.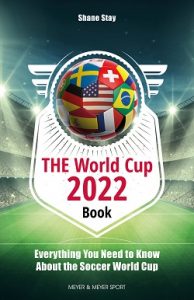 THE World Cup 2022 Book, written by Shane Stay and published by Meyer & Meyer Sport, is a fun, useful guide to the soccer World Cup. It offers information on each of the 32 teams competing for the cup in addition to their coaches, what strategies and tactics they might use on the field, and which top players to watch. Also included is analysis of the teams and their predicted performance and even background information on each high-tech stadium om Qatar.
With this book, you will be prepared to enjoy and follow one of the biggest global sporting events, the 2022 FIFA World Cup!
Shane Stay wrote The World Cup 2018 Book, The Women's World Cup 2019, The Euro 2020 Book, European Soccer Leagues 2019, Major Leagues Soccer 2019, Why American Soccer Isn't There Yet, and The Cairo Project. In 2008, he played professional soccer with St. Louis Illusion. During his career as a soccer player, he earned a Missouri Club State Championship with Busch Soccer Club and a Holland Cup Championship with a Metro East team. In 1999, he founded the first online Current Events Game (CE Game). He has appeared on TV and has featured on numerous radio broadcasts, including ESPN and NPR.