Every month, a minimum of 10 new cases of alleged sexual assault or abuse involving athletes or coaches are made public, shocking the communities in which they occur and illuminating a growing threat to our sons and daughters.
As a former high school, collegiate, and professional athlete and coach, I was aware of many behaviors that soiled the sports world long before I studied this subject matter formally in my doctoral program. Such observations were not mine alone because many athletes I spoke to, including those I formally interviewed, discussed similar incidents along with their desire to expose these negative practices in order to help "clean-up" the athlete culture.
Raising awareness, promoting leadership, and addressing harmful practices in order to prevent or stop them were underlying motives for writing my book, The Dark Side of Sports: Exposing the Sexual Culture of Collegiate and Professional Athletes. The book's title could have easily included high school athletes as well because every type of sexual deviancy and aggression that flourished at the collegiate and professional levels was also found among high school athletes. This is a strong message for parents who have young athletes as well as daughters that can be victimized by high school level competitors; other athletes learn to become aggressors and perpetrators while playing on certain high school teams and still living in their parents' houses.
While most of this information is certain to shock and provide a wake-up call for those in and outside of the sports world, it also provides an opportunity to prevent and end an array of harmful practices that have been flourishing for decades without attention. For these reasons, I provide important messages not only for athletes, coaches, administrators, and sports enthusiasts, but also for parents of athletes and young women, who are impacted by an array of toxic behaviors beginning in high school.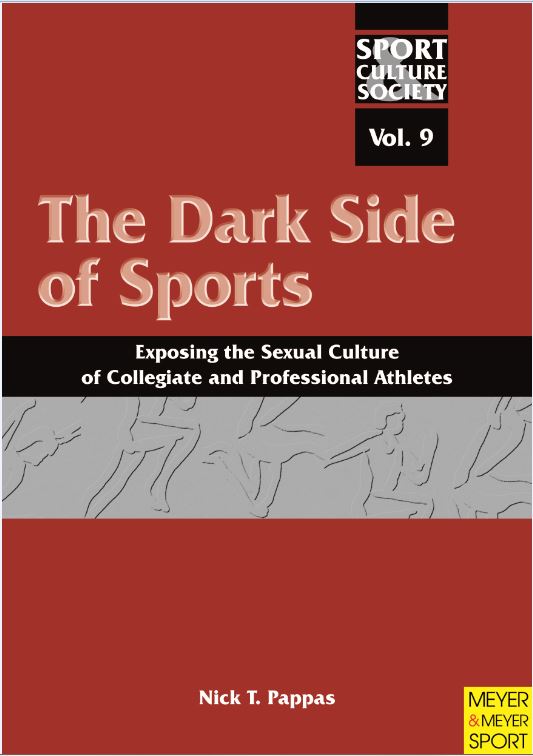 These alarming incidents raise questions about underlying causes and different types of sexual deviancy that silently thrive within insulated athletic teams, starting in high school. As a result, I discuss:
Different types of sexual deviancy and aggression flourishing at all levels of sports, which can include:
1). Unbridled promiscuity, cheating, and juggling of females.
2). Group and video voyeurism, homemade pornography, and exhibitionism.
3). Group sex, sexual assault, and gang rape.
How athletes target young women…and sometimes each other, and how pedophile coaches target young athletes. This can involve:
1). Elaborate sexual contests and competitions targeting as many young females as possible.
2). Sexualized hazing and initiation practices targeting teammates.
3). Different ways that pedophile coaches groom young athletes for sexually abusive purposes.
What parents and coaches need to know about athletes' sexual behaviors, motives, and consequences.
1). Sexually deviant and aggressive behaviors, including the use of pornography, prostitutes, and strip clubs, can be deeply imbedded and rampant within certain athletic teams and cultures.
2). Sexual deviancy and aggression involve multidimensional factors, including athlete privilege, peer pressure, and alcohol abuse, which converge to enable these practices.
3). Ignoring and/or providing little or no consequences are poor and unacceptable disciplinary practices which essentially give a "green light" for these behaviors not only to continue but to thrive as well.
How to prevent deviant practices from gaining a stronghold within athletic teams, while promoting personal and team excellence in the process. This can include:
1). Identifying and discussing the negative practices occurring within different athlete cultures, such as promoting sex in the recruiting process.
2). Encouraging excellence outside of sports in all areas of life and in multiple aspects of the self.
3). Knowing that sports attract sexual offenders means educating athletes about difficult issues such as proper vs. improper touch, safe Internet use, and predator traits, characteristics, and consequences.
As a popular form of recreation and entertainment, sports can provide an array of positive experiences that many people and families remember fondly throughout their lives. This makes the task of keeping our sporting environments safe while cleaning up the athletic world one team at a time a very noble and worthwhile pursuit. In order to accomplish this, everyone must work together to protect our athletes and children from predators that use sports as a platform to victimize others. Until these dangers and practices are eliminated completely from the athletic world, this work must continue indefinitely from one generation to the next while extending into other environments that go beyond sports.
CREDENTIALS: Nick Pappas, Ph.D., LPC, NCC, is a former collegiate and professional hockey player and coach with a doctorate in Human Development and Family Science with an emphasis in Sociology of Sport from The Ohio State University. This unique background, in combination with experience as a professional counselor, personal and athletic life coach, motivational speaker, and college professor provides Dr. Pappas with a distinct insider perspective highlighted in his groundbreaking book, THE DARK SIDE OF SPORTS: EXPOSING THE SEXUAL CULTURE OF COLLEGIATE AND PROFESSIONAL ATHLETES, the result of interviews with 142 collegiate and professional athletes.
Dr. Pappas is available in Michigan and nationwide by arrangement. You can contact him by phone:  (231) 676-4067 (MI); through his website: www.DrNickPappas.com; or via email: nick@drnickpappas.com