Spieth's collapse at this year's Masters has been rated by some reporters as one of the worst collapses in golf history. But collapses in sport are not uncommon. It's not a sports first nor will it be a last. They do occur and will continue to occur. For every loser, there is a winner and fans love to see come from behind victories. You may even say that this phenomenon helps create the big salaries that we see in sports. Sport fans are constantly looking for the unexpected and it's probably one reason that sport draws big numbers in TV ratings and at live events.
But for the athlete that is having a meltdown, we have to look at what causes this collapse. Quite often it's a mental thing. For some reason, they cannot stop a downward trend. How can they play great one minute and then totally lose it for the rest of a game? From my book, The Last 9 Seconds, I spend some time helping coaches work with their athletes to stop this meltdown by providing some simple psychological ideas. Here is an excerpt.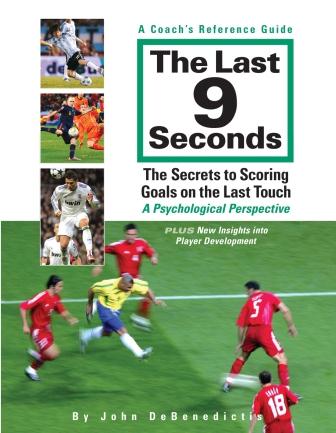 I recall a similar collapse while I was watching the 2005 Women's Australian Open tennis final between Lindsay Davenport and Serena Williams . Davenport was ahead 1 set to 0 against Serena Williams and ahead halfway through the second set. Davenport had the opportunity to break Serena Williams and take a commanding lead in the second set. She had 7 break points and numerous opportunities to win one of the games in the second set. She failed.
Shortly afterwards, in the next game, Davenport had Serena Williams at 40/love but missed a simple shot that should have put the game away and tied the set at 4 games apiece. After that miss, the game, set, and match were practically over. You could see it in her body language and reaction. I remember saying to myself after that miss, "it's over, and she's given up unless she composes herself".
She proceeded to lose total composure after that miss and lost that game ending it with a double fault. She then lost again to lose the second set. In the third set Williams won 6-0 and won 2 sets to 1 to claim the Australian Open Women's title. She was unable to mentally overcome her errors and she broke down so quickly it was sad to see such an even match turn so one-sided in such a short time.
Eliminate errors and you will be more successful
The key to victory or success in any individual sport comes down to eliminating errors. The golfer who gets a hole-in-one and then a triple bogey the next three holes will not win the competition too often, if at all. The tennis player who misses and easy shot has to be mentally strong enough to overcome a mistake and focus on the next shot. Tennis player Roger Federer has an amazing ability to stay focused, eliminate errors, and stay consistent without being too flashy to get the job done.
Former number one ranked men's tennis player in the world, Roger Federer said that after years of playing tennis he has found peace on the court. He used to be "wild' on the court before becoming "number one" because he'd get frustrated: "Now I can handle it. If I miss shots, I say, 'Okay, I hope the next one goes better'. So I can just always see something positive in my game".
When I lecture to athletes I say, " DO NOT let the past affect the future in a negative way. If anything, make it a positive thing. Ask yourself to control the emotions that you have racing through your mind when you make a mistake. You can simply re-focus by telling yourself to calm down and do the simple things right as you have done all game. Analyze what went wrong quickly and tell yourself that you know how to fix it. The key is that you know what you will do next time when a similar situation presents itself.
What you need to do is be thrilled with the fact you are playing a sport you love to play and be excited for your next chance. You will be happy being where you are. Do not worry about the people watching. You can do nothing about what happened. Just get excited about what can happen when you do better later because you will be more focused."
Federer worked with sport psychologists to stay at the top of his game. Overcoming mistakes is huge and is something you have to learn to deal with to get to the top. It will happen to the best but the best will bounce back from any breakdown and stay towards the top for a long time. Those who cannot deal with adversity will disappear off the spotlight.
Tiger Woods learned to stay focused and forget about bad holes early in his career. I'm sure Jordan Spieth will bounce back. Time will tell.
John DeBenedictis is author of The Last 9 Seconds: A Psychological Perspective
https://www.cardinalpub.com/store/last-9-seconds-2/?add-to-cart=1157
 This blog is brought to you by CPG News and Information