US Women Beat China
By Whitey Kapsalis, author of To Chase a Dream (Meyer & Meyer Sport 2014)
What has endeared the people of this country to the US Women's National Team over the past couple decades was on full display against China on Friday night. US women beat China: a game played by the US with passion, purpose, high-energy and as a complete unit made this game a no-contest from the very beginning. An early squandered scoring chance by Amy Rodriguez kept this from being a complete route. If she puts away that breakaway shot, I believe goals would have come all game. In the end, it took a great service and a world class finish from Carli Lloyd to secure the 1-0 win, but the US set the tone from the opening whistle. Ball movement and possession, mixed with some individual flair, coupled with constant defensive pressure made this the most enjoyable game of the tournament thus far to watch. The line-up change, due to accumulation of yellow cards by Rapinoe and Holiday, was embraced and the entire team stepped up to the challenge. Once again, the back 5 were stellar and are as composed and cohesive as any defensive unit in the world; a formula that bodes well for this team's chances going forward….offense wins games, defense wins championships. If the US continues to play with this mix of ingredients, they will be World Cup Champions on July 5th, and the country will be reminded, once again, why we love them so much.
US vs. China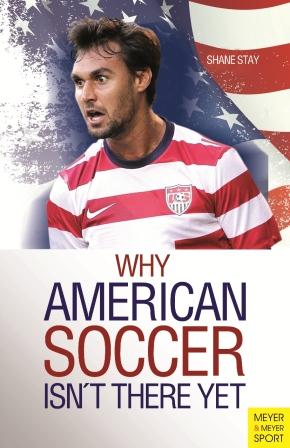 By Shane Stay, author of Why American Soccer Isn't There Yet (Meyer & Meyer Sport 2014)
"In three short weeks it has become the hottest story of the summer," said Robin Roberts from a sold out Rose Bowl stadium, in 1999. Four fighter jets soared over the crowd as the national anthem summed up and the crowd went crazy. Scurry, Chastain, Kate Sobrero, Overbeck and Joy Fawcett, Kristine Lilly, Michelle Akers, Julie Foudy, Hamm, Tiffeny Milbrett and Cindy Parlow. Some team.
Yesterday's rematch of the US vs. China where the US women beat China saw the US take the game right to China, not letting them out of their half if only for a moment. The Chinese were befuddled, utter disarray at times. But other moments allowed them the luxury to connect elegant passes together, showing what they're made of. Indeed, they're a good team, but on this day the athleticism of the US players took over the game. At times, from a dead start, a US player – I think Press, among others – would take a four-stride lead on her opponent. The loose balls won in the midfield were due to constant US pressure and great anticipation, particularly from Lloyd, the eventual goal-scorer, showing off her all-around game. Absolutely, Lloyd is the leader on the field, setting the tone, winning tackles, setting up the offense, but of particular note is Heath, #17. It's as though Robben and Denilson had a baby sister, raising her from the crib with dribbling skills to unleash onto the Women's World Cup someday. Keep going to Heath. An announcer noted to the effect of "Heath should give the ball up quicker so that Morgan can display her magic." Morgan wasn't displaying much magic. Heath was. If anything, Morgan, Lloyd and all the rest need to get the ball to Heath so she can do her thing which will bring good results for Morgan, Lloyd and the rest. Aside from Lloyd taking care of offense and defense, Heath is flat out the best player on the field. If she's out of the next match…oh boy. Just keep her in, coach. Better things will happen. Tuesday, a date with Germany, who defeated France in the other Quarterfinal, is set for the Semi-Finals. It should be good.
Women's World Cup Nutrition Tip
By Gloria Averbuch and Nancy Clark, authors of Food Guide for Women's Soccer (Meyer & Meyer Sport 2015)
And then there were four….Germany v. USA and England v. Japan (defending champion) remain in the tournament. They will play each other on Tuesday. In the meantime, here is some useful advice on vegetables from Food Guide for Women's Soccer. Even over-cooked vegetables are better than no vegetables. If your only option is over-cooked veggies from the cafeteria, eat them. While cooking does destroy some of the vegetable's nutrients, it does not destroy all of them. Any vegetable is better than no vegetable!
While farm-fresh is always best, keep frozen vegetables stocked in your freezer, ready and waiting. They are quick and easy to prepare, won't spoil quickly, and have more nutrients than "fresh" vegetables that have been in the store and your refrigerator for a few days. Because cooking (more than freezing) reduces a vegetable's nutritional content.
Stay tuned for more from the Women's World Cup