US vs. Columbia
By Shane Stay, author of Why American Soccer Isn't There Yet (Meyer & Meyer Sport 2014)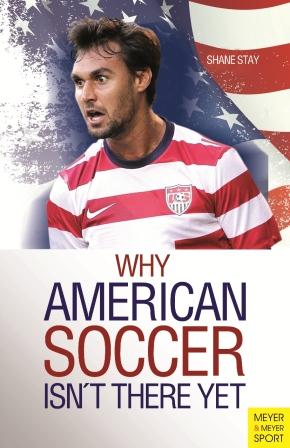 In last night's WWC, US vs. Columbia, the US wins 2-0, getting past Columbia as expected but as the team prepares for a strong China side, there are still questions. Julie Foudy speaking on the ESPN Freddie Coleman Show said. "Get stuck in," with a laugh, responding to his question on how the US can defeat China on Friday in the Quarterfinal match. The echo chamber is more or less: "There needs to be more cohesive play; there needs to be more aggressive tackling; better chemistry; more offense." All this is true as the squad is not playing the best soccer, but they're moving on. In similar fashion to the men's Brazilian team last summer in 2014, they're getting by, however it's not very eye pleasing. The problem is, on paper, they have great talent. There are moments when the talent is clearly on display. The players have the skill and commitment, but there's a quality lacking that's holding them back from really getting things into high gear. There's a lot of pressure on the team, particularly in the showdown with China: the rematch of 1999, when the best team in US women's history, led by Akers and Hamm, were full throttle. The US should win, but enthusiastic fans are hoping for a thrilling show, which the team is more than capable of.
http://www.shanestay.com/
US Maintains Composure, Ousts Columbia
By Whitey Kapsalis, author of To Chase a Dream (Meyer & Meyer Sport 2014)
The intent of the Columbian Soccer team leading up to their game vs the US was to try to turn it into an emotional battle. They wanted to test the US Team's mental toughness with pre-game rumors and innuendo's, but it did not work. The US maintained its composure, even after ending the first half at 0-0 and even after missing a potential go-ahead penalty kick in the 2nd half. Those situations did not demoralize the US effort; instead they inspired the US effort. This US Team is savvy, this US Team is poised and this US Team accomplished the task at hand with relentless offensive pursuit in beating emotionally charged Columbia 2-0, and advancing to the next round of the World Cup. Megan Rapinoe was outstanding on both ends of the field and a healthy Alex Morgan is a handful for opponents to deal with. This veteran, focused US squad simply took care of business and let their actions do the talking.   
http://www.tochaseadream.com/
Women's World Cup Nutrition Tip
By Gloria Averbuch and Nancy Clark, authors of Food Guide for Women's Soccer (Meyer & Meyer Sport 2015)
Particularly in the summer heat of the Women's World Cup, both players and fans likely turn to salad for a meal. Food Guide for Women's Soccer offers the following advice for athletes or anyone filling their salad bowls. Choose a variety of colorful vegetables—dark green lettuces, red tomatoes, yellow peppers, orange carrots—for a variety of vitamins and minerals. If the vegetables you buy for salads tend to wilt in your refrigerator, consider frequent trips to the salad bar at the grocery store and deli as an alternative to tossing veggies that spoil before you find the chance to eat them. And here's a tip: dig from the bottom, to make sure to get the coldest (and therefore best preserved) part of the salad bar. Also, watch the dressing. If you choose to use regular dressings, try to select ones made with olive oil for both a nice flavor and health-protective monounsaturated fats, or dilute them with vinegar or other liquid for a lighter touch.
Stay tuned to more from the Women's World Cup
http://www.pointsgroupllc.com/author/gaverbuch/
http://www.nancyclarkrd.com/