US Women Beat Nigeria, Win Group
By Whitey Kapsalis, author of To Chase a Dream (Meyer & Meyer Sport 2014)
The US Women beat Nigeria in an important final game of the first round, winning the group and advancing on to the next round. A late 1st half goal by Abby Wambach was the difference in a game dominated by the US. A few counter-attack opportunities by Nigeria kept the game interesting, but the US was in control throughout. The highlight of the game was Lauren Holiday's presence and composure in the midfield. She orchestrated the offense by being around the ball a lot and by playing balls that kept the Nigerian defense off-balance. Once again, the back five of the US defenders were stingy and disciplined throughout the game, breaking down most of Nigeria's attack in the defensive third.
http://www.tochaseadream.com/
US vs. Nigeria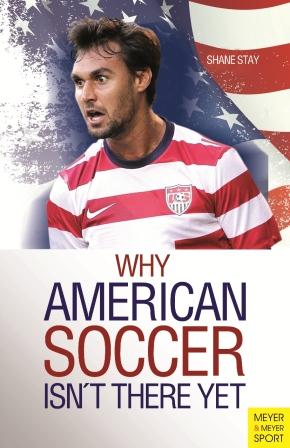 By Shane Stay, author of Why American Soccer Isn't There Yet (Meyer & Meyer Sport 2014)
Columbia vs. England will likely determine who the US plays next in Edmonton, Canada. The Women's World Cup is getting more exciting! Wambach's goal, a volley with her foot – not her head – put the US past Nigeria, as predicted, to win Group D. The midfield was better, with room for improvement. This win avoids a second round game against a strong Brazilian side. As Wambach and Morgan got more playing time, maybe that was the key as Abby's goad in the first half finished the score against Nigeria, 1-0. Coming off a tie against Sweden this was a great confidence builder for the team in the next few days. Furthermore, Morgan's start was the first in two months, due to an injury comeback. US fans are hoping to see more from her. Combined with Lloyd, and other midfield talent, things are coming together for the US, gaining momentum heading into the knock out rounds. Some keys to look for will be the US remaining composed in possession and not getting rattled when they don't score right away, with a solid and relaxed defense, who, up to this point, has played well, keeping the US in games, but has also looked jittery at times.
Women's World Cup Tip–Get Your Sleep!
By Gloria Averbuch and Nancy Clark, authors of Food Guide for Women's Soccer (Meyer & Meyer Sport 2015)
As the tournament moves on to the crucial knock-out rounds, every aspect of players caring for themselves both on and off the field becomes more crucial. In addition to good nutrition, other lifestyle aspects come into consideration. According to Food Guide for Women's Soccer, in addition to fatigue, lack of sleep directly affects athletic performance. According to research quoted in the book, cumulative sleep deprivation has been shown to reduce cardiovascular performance by 11%. It also affects other measures of performance, such as focus, perceived exertion, and alters the supply of energy to the muscles.
Stay tuned to more from the Women's World Cup
http://www.pointsgroupllc.com/author/gaverbuch/
http://www.nancyclarkrd.com/