Here is an interesting statistic from this year's FIFA Women's World Cup. Teams coached by women have scored more goals and also given up more goals than teams coached by men in the competition thus far.
The top two scoring teams so far are Germany and Switzerland and between them they have scored 21 goals. Each team has only played 2 games. The good news is that both teams are coached by female coaches. At the other end of the spectrum, the top two teams that have conceded the most goals so far are Ecuador and Cote D'Ivoire. The bad news is that those two teams have conceded 29 goals in 4 games and are also coached by female coaches. It seems as though that teams with women coaches produce more goals both for and against.
It's interesting that female coaches are at the helm at both extremes. (I shall refrain from making a comment here).
In this World Cup, only 7 head coaches of the 24 teams are female. If we look at the total goals for and against record of those 7 female coaches, we see a total of 33 goals were scored and 39 goals were conceded. The combined total from the remaining 17 male coaches shows only 41 goals scored and only 35 goals given up.
This could be purely coincidental but based on those numbers I would say that, from an entertainment point of view, watching teams coached by females would provide a lot more excitement. In fact the numbers suggest that games would be filled with goals if all teams were coached by females. Maybe we should consider forcing all teams in the Women's World Cup to be coached by females. That could make things interesting.
Come to think of it, if this is a trend and not just a coincidence, the MLS, which is traditionally a low scoring league, should consider banning male coaches and forcing all teams to hire female head coaches. That may help boost TV ratings for the MLS as well!
Please don't comment on that last sentence because I'm just kidding. But it is an interesting observation isn't it? Will it continue? Keep an eye on it.
Thanks for reading,
John DeBenedictis, author of The Last 9 Seconds: The Secrets of Scoring Goals on the Last Touch (DeBenedictis Books)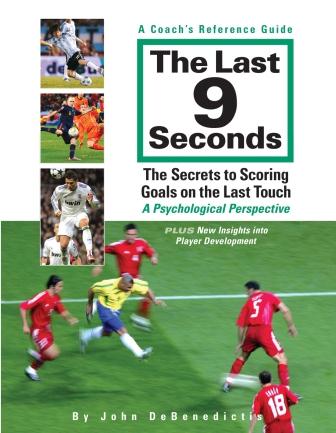 Follow John on Twitter – JohnD_Soccer