Abby Wambach's missed scoring chance against Australia in the USA's opening game, clearly proves that when it comes to goal scoring, that often the reason players do not score is not because of lack of technique or skill but something completely different. I would say that psychology plays a bigger part of missed scoring opportunities than coaches give credit for.
Wamback's missed header would normally have been a routine goal. We know she has the skills and techniques needed to score because she has scored on similar chances many times before. In fact she's The BEST in the World when it comes to scoring. She holds all the women's goal scoring records.
Her psychological make-up is usually spot-on because to re-iterate, she's the best in the world at scoring goals. We know she has the skill because she has scored in these situations over and over so her miss cannot be blamed on lack of skill or technique. Even Abby, the best in the world, missed scoring chances.
You can only attribute her missed opportunity, in the first half of their game against Australia, to a psychological breakdown for that instant. It's clear on all the replays. It happens to the best of them; Messi, Ronaldo, Marta, Sinclair, and yes, even Wamback. Even these superstars have psychological breakdowns when it comes to scoring goals but much less often than most of their competitors.
It took only a split second for her to lose her deep concentration needed to score in that situation. It was a common mistake that players make all the time. When she realized it, it was too late to correct. She's a pro and she'll bounce back better than ever.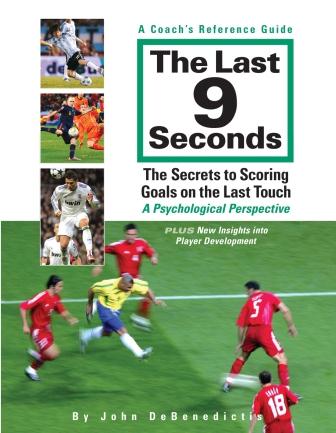 I have come up with three key things to focus on in such situations to keep a player focused. These 3 "secrets" have helped players I have coached break their own goal scoring records. They can be found in my book, The Last 9 Seconds. In it I explain how and why players miss chances and offer coaches some tools to help their players eliminate psychological errors. They will never be 100% perfect, but an improvement in conversion rate in these types of chances can be the difference between winning and losing.
Thanks for Reading,
John DeBenedictis, author of The Last 9 Seconds: The Secrets to Scoring Goals on The Last Touch (DeBenedictis Books 2013)
http://www.thelast9seconds.com/
Women's World Cup Nutrition Tip
Water, water everywhere…Hydration is a vital topic for soccer players, and especially in the summer heat of the World Cup. Australian forward Lisa De Vanna, who terrorized the U.S. in game 1 of the tournament with her incredible speed and ability, reveals in "Food Guide for Women's Soccer,": "The biggest nutrition improvement I've made since coming to professional soccer is drinking more water. Drinking enough has made a significant impact on my energy level and performance on the field." She sure showed that, scoring Australia's only goal of the game.
Stay tuned for more from the Women's World Cup!
 By Gloria Averbuch and Nancy Clark, authors of, Food Guide for Women's Soccer (Meyer & Meyer Sport 2015) http://www.pointsgroupllc.com/author/gaverbuch/ 
http://www.nancyclarkrd.com/